Hoarder Order
, 2020
Published by
Fw: Books
Design
Jeremy Jansen

Thomas Kuijpers' work always stems from a (series of) current event(s), on basis of which he investigates how the stories told about these events influence our daily lives. What is the effect on our brain of this daily reporting, when it comes to terrorism, refugees, Europe, extremism, etc? To investigate this, Thomas collects a lot of material of all kinds; newspapers, fragments of conversations he overhears on the street, video material from Youtube, posters on the wall at the bus stop, comments on Twitter. As soon as it touches upon the subject being investigated, it is added to the collection. From that collection new connections arise, as well as insights into the way in which narratives about specific subjects are shaped; and with this also the work arises, within which the source material is often still visible. 'Hoarder Order' is an index of 20 years of collecting and (re-)ordering this collection.
12 x 18,5 cm / 560 pages / colour / hardcover
Selected for Best Dutch Book Designs 2020!
Shortlisted for the Paris Photo–Aperture Foundation PhotoBook Awards in the category best photobook of the year 2020!
Shortlisted for Rencontres D'arles Book Awards 2021, Author Book Award
Mail me
directly for a signed copy! (35 € )
Reviews
:
ASX
(ENG)
Thomas Kuijpers Hoarder Order is a very uncomfortable book. What at first appears as something kitsch and full of self-parody (to Americans) unfolds into a hefty tome dedicated to the presence of symbolic ghosts. In Hoarder Order, the emphasis is the collation of pre-9/11 images of the Twin Towers coupled with their form found in cultural debris and artifact.
Aperture Photobook Review
(ENG)
The images are printed on Bible-thin paper that allows the viewer to experience a layering of signs, creating a visual metaphor for both what comes next and what has already happened. Susan Meiselas states, "These are the pages of our destiny unfolding, and we can go back and forth—wishing we could return to a different time."
Brabant Cultureel
(NL)
In het boek komt het net zo indrukwekkend over als in de installaties. Hoewel de kitsch-objecten aversie oproepen, is het de veelheid aan beeld die indruk maakt. Van de aanslag zelf is niets te zien, maar iedereen weet: deze torens zijn er niet meer.
Available at:
(NL)
Fw:Books
(NL)
Idea Books
(NL)
Foam
(DE)
eXtrabuch
(KR)
Post Poetics
(RO)
Dispozitiv Books
(UK)
Village Books
(UK)
AbeBooks
(JP)
Flotsam Books
(AUS)
Perimiter
(USA)
3StandardStoppage
(USA)
Photo-Eye
Rewatch Foam Booklaunch: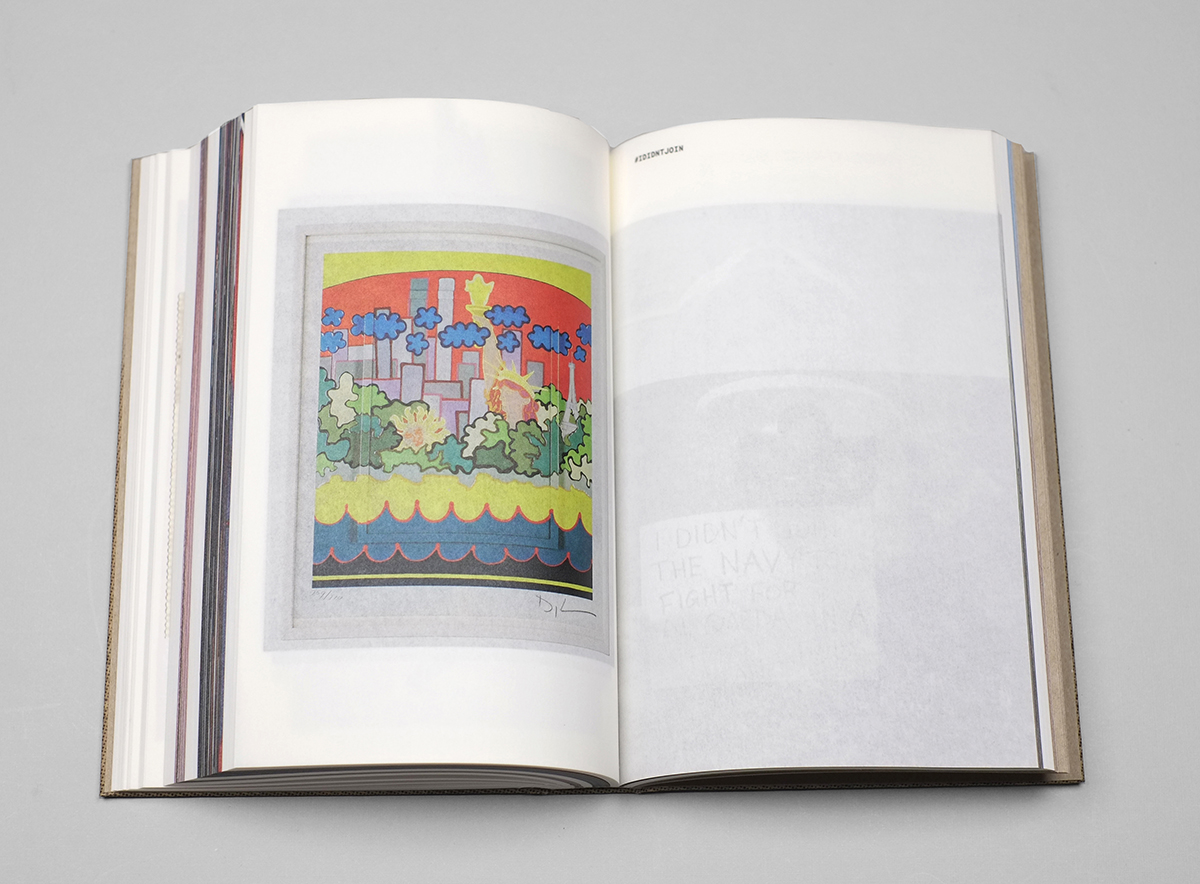 From '
The Photobook Review fall 2020
':

In 2014, Thomas Kuijpers purchased a painting depicting the iconic pre-9/11 Twin Towers in New York City, inspiring him to begin collecting images and objects of the towers in an effort to trace the visual representation of politics via this landmark scene. Hoarder Order gathers a range of materials depicting "before" and "after," now infused with alternate meanings—tourist memorabilia, newspaper clippings, screenshots, movie posters, postcards, and other vernacular material—in a small yet densely elegant 560-page book. Each object is isolated on a page or fills the spread, taking the viewer through a visual timeline of events that resonate outward from the semaphore of these now iconic buildings. The images are printed on Bible-thin paper that allows the viewer to experience a layering of signs, creating a visual metaphor for both what comes next and what has already happened. Susan Meiselas states, "These are the pages of our destiny unfolding, and we can go back and forth—wishing we could return to a different time."